K-Laser Therapy in Casa Grande
What is laser therapy?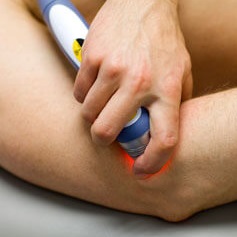 Class IV-K-Lasers deliver a specific red and near infrared wavelengths of laser light to induce a therapeutic effect within the body. These include increased circulation, decreased swelling, reduction of pain and enhanced tissue repair. Laser therapy has been used in Europe since the 1970s and was cleared by the United States Food and Drug Administration in 2002. K-Laser has become the preferred choice for thousands of practitioners worldwide.
The painless application of laser energy promotes increased circulation by drawing oxygen and nutrients to the affected area. This creates an optimal healing environment reducing inflammation, swelling, muscle spasm, stiffness, and pain. As the injured area returns to normal, pain is relieved and function is restored.
During treatment, infrared laser light interacts with tissues at the cellular level. Increased metabolic activity within the cell stimulates the transport of nutrients across the cell membrane initiating increased production of cellular energy (ATP). This leads to a cascade of beneficial events promoting the acceleration of the healing process and reduced pain.
Benefits of Laser Therapy
Class IV K-Laser Therapy is proven to biostimulate tissue repair and growth. The K-Laser accelerated the healing process by decreasing inflammation, pain, and scar tissue formation. In the management of chronic and acute pain, Class IV K-Laser Therapy can provide dramatic results.
Numerous studies show that Laser Therapy can reduce pain associated with:
Tendinopathies
Carpal Tunnel
Myofascial Trigger Points
Tennis Elbow
Neck Pain
Lower Back Pain
Rib Pain
Ligament Sprains
Muscle Strains
Repetitive Stress Injuries
Chondromalacia Patellae
Plantar Fasciitis
Rheumatoid Arthritis
Osteoarthritis
Shoulder, Back, and Knee Pain
Herpes Zoster (Shingles)
Post-Traumatic Injury
Fibromyalgia
Diabetic Neuropathy
Deep Edema/Congestion
Sports Injuries
Auto and Work Related Injuries
---
 K-Laser Therapy Casa Grande | (520) 876-5500